Restaurants
As a guest of the Valentin Imperial Maya, why not treat your palate to a culinary adventure? Enjoy gastronomic experiences in a modern and trendy atmosphere with dishes crafted by internationally renowned chefs. Start your day with a tasty breakfast in our beachfront Mar & Tierra, where you can also enjoy lunch. For casual dining, our main buffet restaurant is available for breakfast and lunch. Or you may select from any of our seven à la carte restaurants: Italian, French, Japanese, Indonesian, Mexican, Steak House, and Seafood Grill. Reservations are not required; First come, first served. Dress code applies. The restaurants do not require reservations. First come, first served.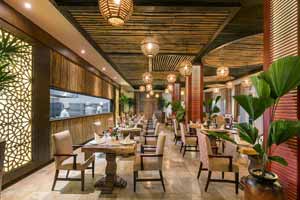 Taman Sari
Enjoy a new fusion of Asian cuisine with an exquisite and extensive fusion of Asian flavors with tasty creations from Thailand, Vietnam, China, Indonesia and more. The restaurant bar offers a variety of original exotic drinks that vary slightly depending on the season. Open from 6.00 p.m. to 10.30. p.m. Dress Code: Night Casual-Elegant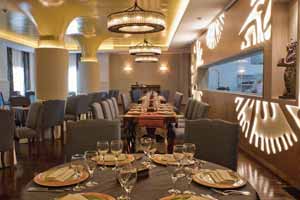 La Hacienda
This resort could not forget the incredible Mexican cuisine. A modernized interpretation of three Mexican specialties from the states, Veracruz, Puebla and Yucatan, from which we have removed the extreme spice to suit all palates. Open from 6.00 to 10.30. p.m. Dress Code: Night Casual-Elegant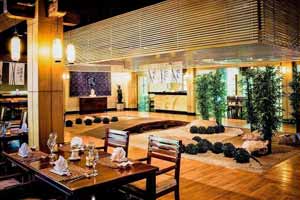 Ginger
Japanese cuisine also has its place in this range of gastronomic possibilities, with a restaurant that includes a la carte dishes, tables of Teppanyaki (for which reservation is required) A sushi bar. Traditional Japanese cuisine with a modern touch. Open from 6.00 p.m. to 10.30. p.m. Dress Code: Night Elegant
L'Alsace
A mixture of traditional French cuisine, in which saturated fats are carefully avoided. All the flavours from the exquisite French cuisine, which are accompanied by some of the best wines in the world. Open from 6.00 p.m. to 10.30. p.m. Dress Code: Night Elegant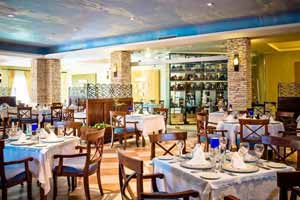 L'Olivo
The Mediterranean cuisine is best represented in this restaurant, which perfectly combines traditional Italian cuisine with a touch of Italian-American cuisine. The freshest ingredients in a unique experience for the palate. Open from 6.00 p.m. to 10.30. p.m. Dress Code: Night Elegant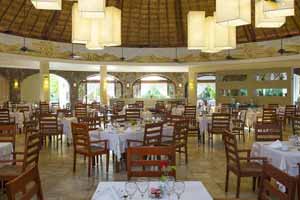 Le MarchÉ
There is nothing better than starting the day, between 7:00 a.m. and 11:00 a.m. with a breakfast buffet with hot and cold dishes, fresh eggs prepared on request and accompanied with the most natural juices or the most refreshing fruits. Lunch in this restaurant is also a pleasure with a wide variety of salads, fresh vegetables ...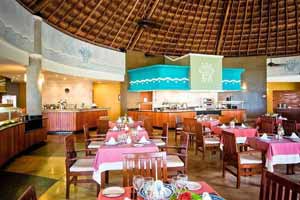 Mar y Tierra
The Mar & Tierra restaurant serves an exquisite breakfast buffet from 7.30 a.m. to 10.30 a.m. in order to start the day with all the energy that the Mexican Caribbean offers. For lunch, during the hours of 11.00 a.m. to 4.30 p.m. there are various 'show cooking' stations where food is prepared to ...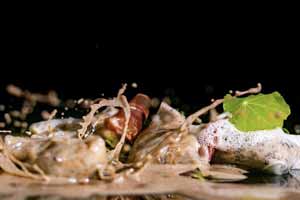 The Corner
A culinary experience in which to try different gastronomic tendencies . Unique ingredients and exquisite service to make dinner an unforgettable evening. The Corner is the only restaurant in the resort with additional charges and has a schedule of 6.00 p.m. to 10.30 p.m.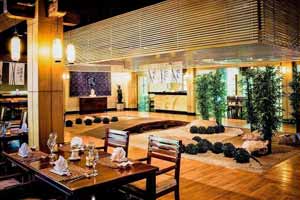 Dress code required
DAYTIME: Resort Day Casual: Dress, shorts or jeans. Swimwear must be dry and covered. No bare feet.

EVENING: There are three dress codes according to the different restaurants and bars as follows:

Night Elegant:

Ladies: Dresses, blouses, skirts, dress jeans (not torn nor ragged), Capri pants, elegant Bermudas, dress shoes & elegant sandals. ***Beachwear, sportswear, t-shirts, short-shorts, tennis shoes or beach ...